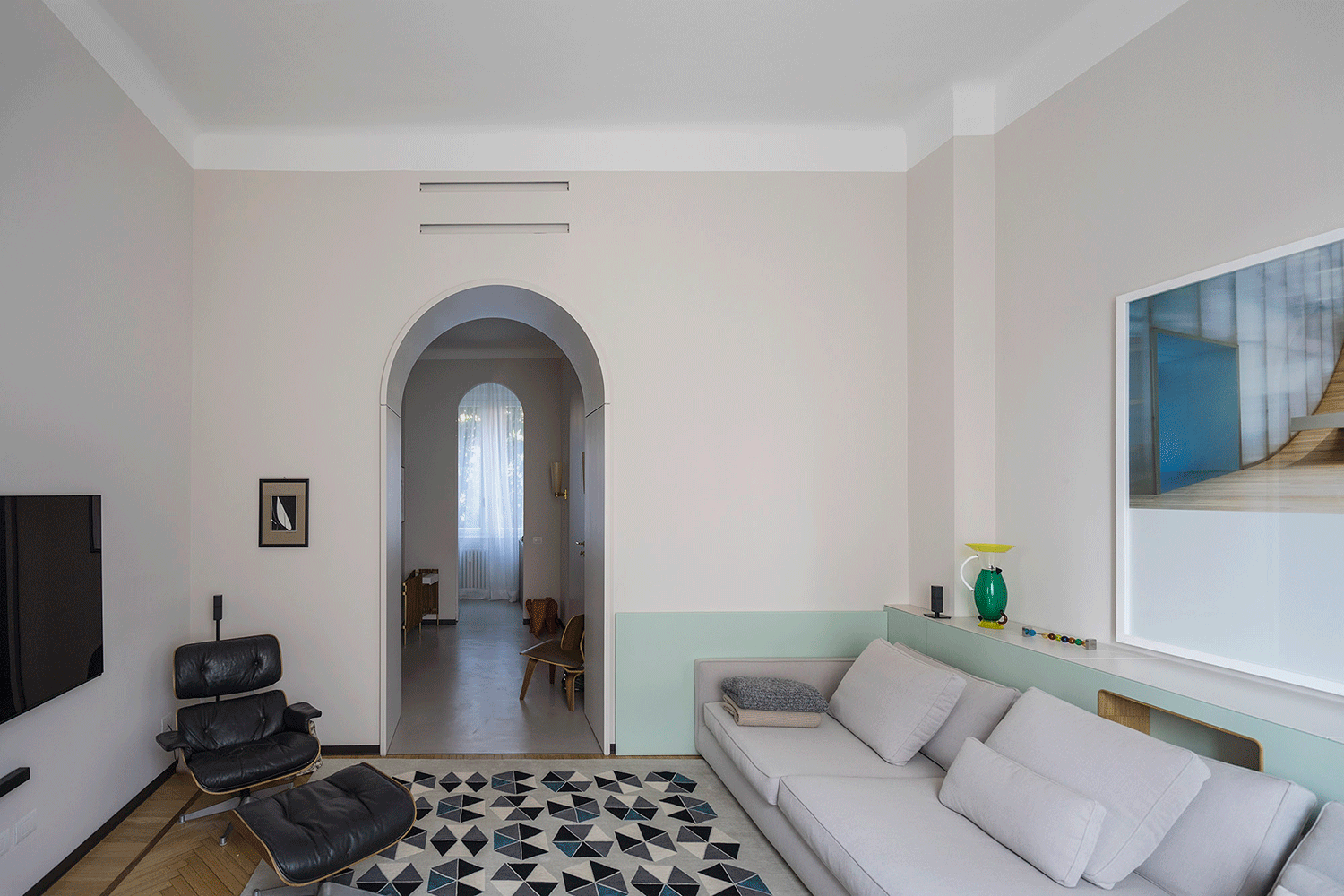 Interior renovation project of a traditional milanese bourgeois apartment, characterized by wide surfaces, high ceilings, plaster corniches and a classical central corridor distribution.
We approached the project by choosing the repetition of elements as key tool to emphasize the linear sequence of openings and passing-through spaces.
Deep and slender passages shape continuous perspectives through the enfilade of rooms. What once used to be the serving circulation space is now shrinked into a technical spine crossing the whole apartment, it sometimes opens up revealing hidden spaces or technical installations, everyday equipments or allowing passages.
The new solid backbone empowers the sequence of rooms with fluidity of space and non hierarchic flows.
Furnitures are mainly customized in order to answer back to specific needs of each space; materials and vintage 30's pieces blend with contemporary items in a traditional but still not nostalgic atmosphere.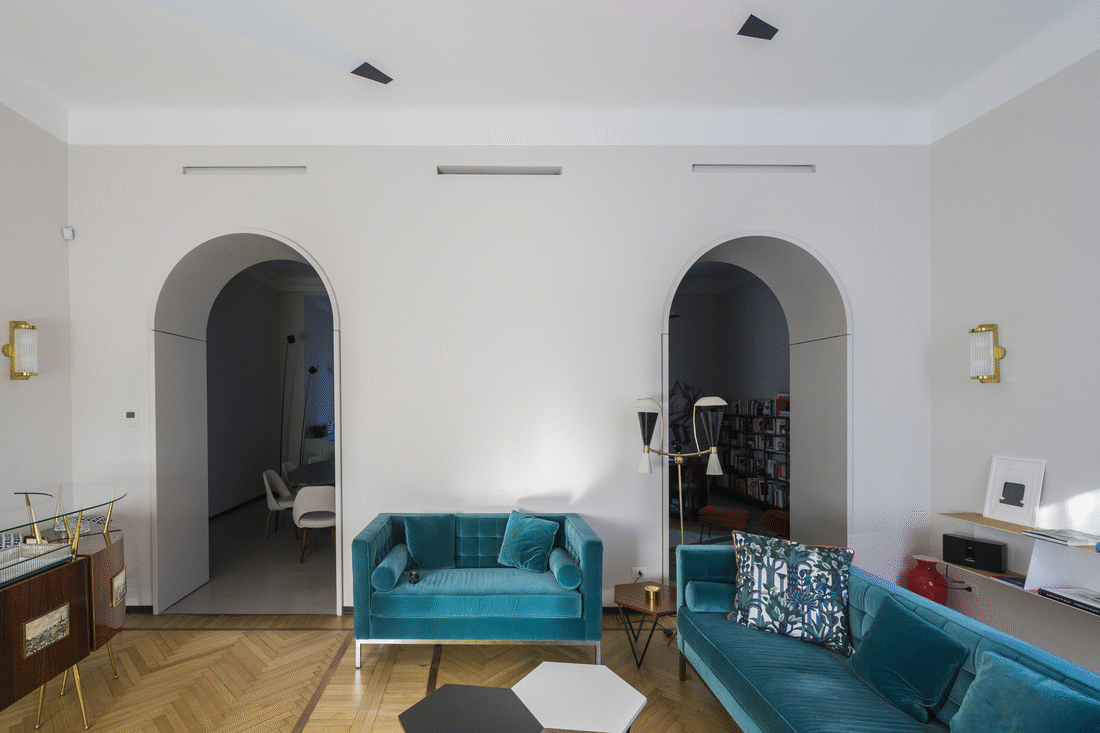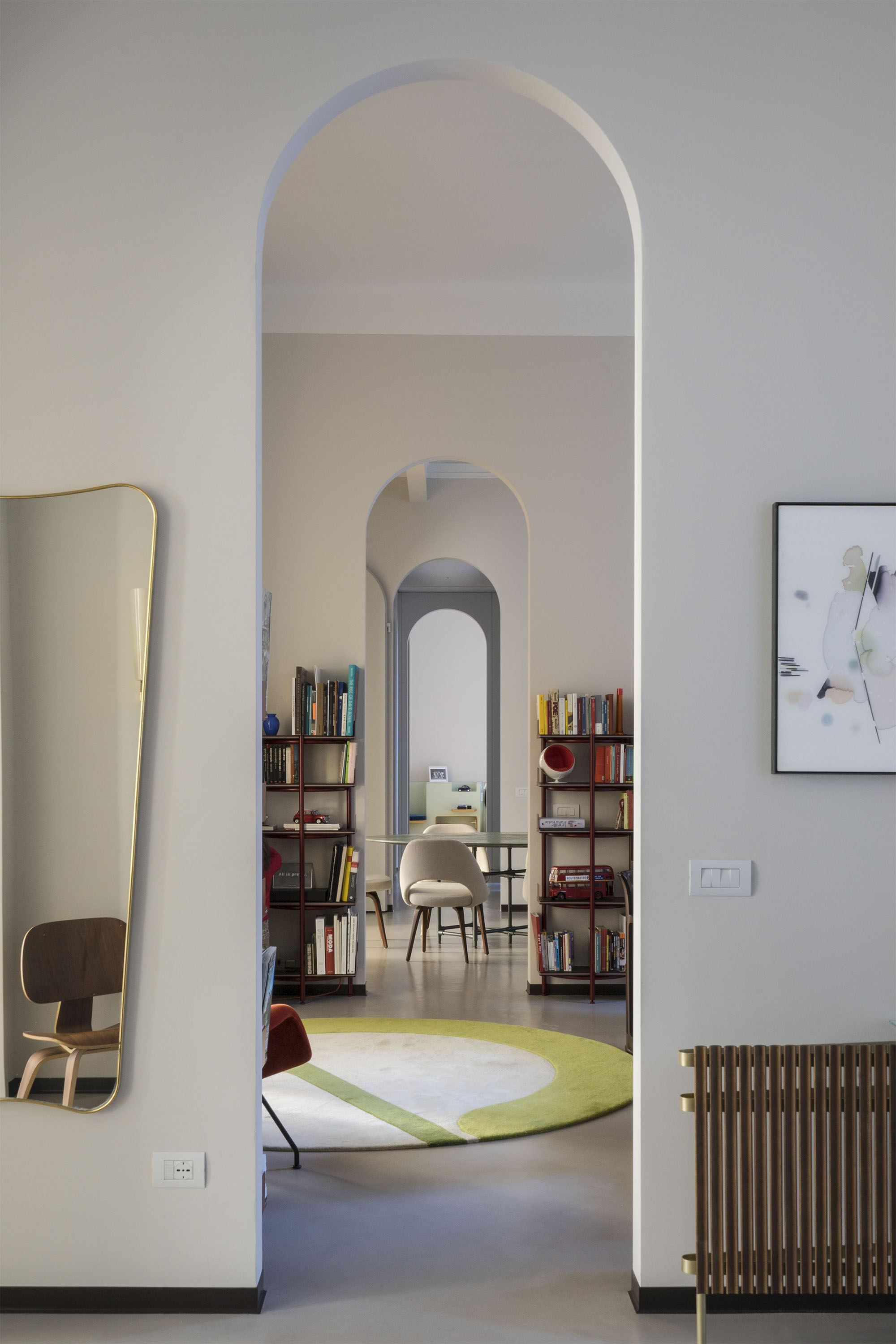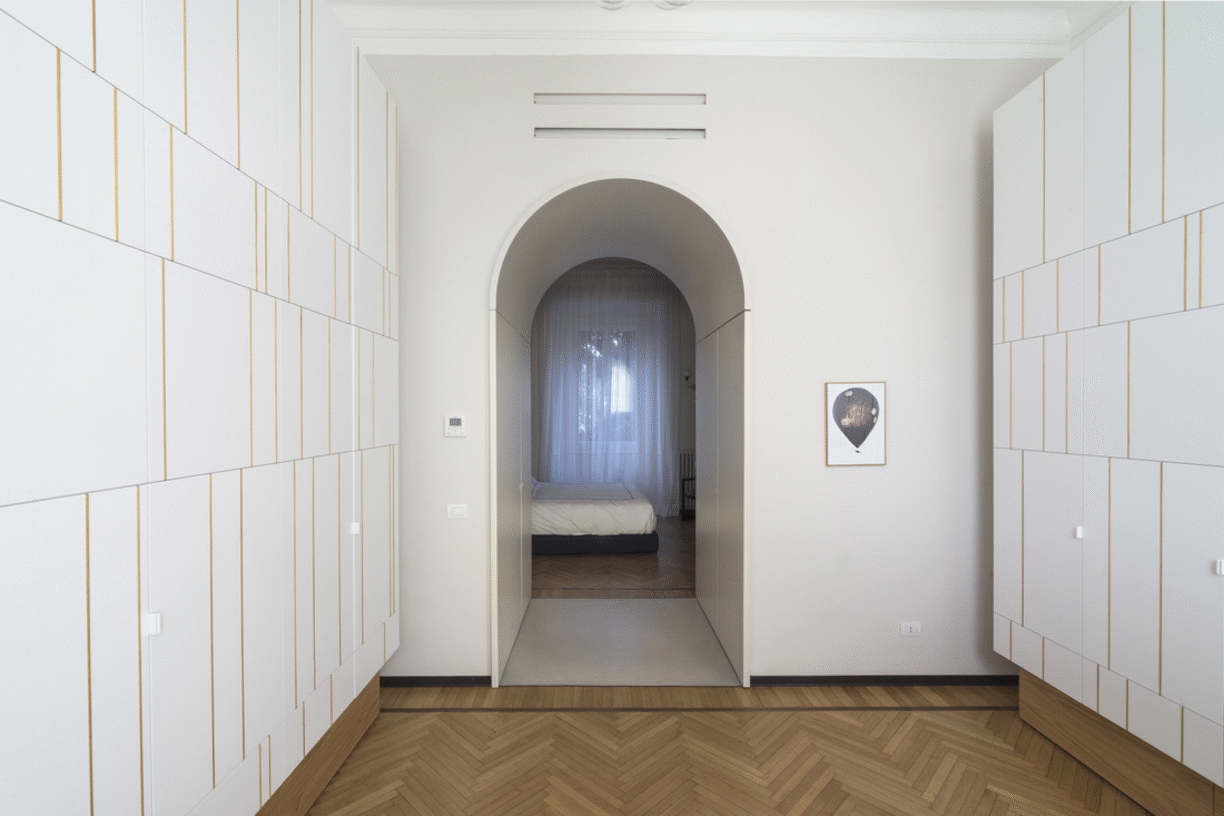 Team: Elena Cerizza, Caterina Pilar Palumbo, Ginevra Venturini
Photographs: Caterina Pilar Palumbo
Editing: Marta Bertani


TECHNICAL DATA
Hallway
Console with profiles in stained wood and brass structure on design
Elena Cerizza realization Arredamenti Carugati (Lomazzo), vintage mirror designed by Gio Ponti

Tv room
Lounge Chair e Ottoman vintage Herman Miller designed by Charles and Ray Eams, Steelcut Trio fabric sofa by Kvadrat made by Spinelli A&G (Arosio), floor lamps inspired by LT8 designed by Osvaldo Borsani and designed by Luigi Della Maddalena (Cucciago), Esagoni rug by Amini, Adjustable table E1027 by ClassiCon, lacquered MDF cabinet and profiles in oak wood on design Elena Cerizza realization Furniture Carugati (Lomazzo), curtains Waver fabric by Kvadrat Textim package (Seveso)

Kitchen
Tulip table by Knoll , chairs DKR by Vitra, lamp Lyndon
by Oluce, lacquered MDF furniture and oak profiles and steel elements designed by Elena Cerizza realization Carugati furniture (Lomazzo), Miele appliances, Vals lamps by Viabizzuno, Dator 60 clock by Solari, Waver fabric curtains by Kvadrat Textim package (Seveso)

Living room
Adamo & Eva fabric sofas by Dedar and Jardin D'Osier Imprimè by Hermes made by Spinelli A&G (Arosio), vintage bar, console D.355.1 produced by Molteni, vintage brass and glass wall sconce, vintage armchair designed by Paolo Buffa, vintage coffee table designed by Gio Ponti for Isa, curtains
Waver fabric by Kvadrat Textim pack (Seveso)

Dining room
Dining table designed by Elena Cerizza realized by
Luigi Della Maddalena (Cucciago) and Vallmar (Meda), Conference chairs by Knoll, vintage Lambda wall sconce designed by Vico Magistretti for Artemide, vintage sideboard, Sampei floor lamps by Davide Groppi, armchairs D.154 .2 produced by Molteni Perspective Cavaliere Bayadere fabric by Hermes, lacquered MDF furniture designed by Elena Cerizza, Carugati furniture (Lomazzo), Bamboo carpet by Kvadrat, Waver fabric curtains by Kvadrat Textim packaging (Seveso)

Bathroom
Cabinet in lacquered MDF, stained wood profiles and top in gold Calacatta marble designed by Elena Cerizza made by Arredamenti Carugati (Lomazzo), Narciso mirror by Agape, Marseille wall lamp by Nemo, Bonola bathroom fixtures by Flaminia, Fisher Island bathtub by Boffi, Memory taps and accessories by Agape, String lamps by Flos.

Bedroom
Bed headboard structure and bedside tables in lacquered MDF with
oak profiles on design Elena Cerizza realization Arredamenti Carugati (Lomazzo), Mira bedside lamps by Davide Groppi, bed fabric Stick Tree by Kvadrat Textim (Seveso)

Walk-in closet
Cabinet in lacquered MDF with oak drawers and profiles on
design Elena Cerizza realization Arredamenti Carugati (Lomazzo), Taraxacum lamp by Flos, drawer unit with mirror in lacquered MDF designed by Elena Cerizza realized by Arredamenti Carugati (Lomazzo)

Hammam
Cloud of Effe, Memory faucets by Agape, coating
of resin made by Fratelli Gritti (Bergamo)

Studio
Enamelled tubular steel bookcase and MDF shelves
dyed to a design by Elena Cerizza made by Luigi Della Maddalena (Cucciago) and Arredamenti Carugati (Lomazzo), Taliesin table and Barrel chairs by Cassina, vintage table lamp mod. 597 designed by Ginfranco Frattini for Arteluce, Aeron armchair by Herman Miller, JC-7 Isola rug by Amini, ottoman armchair Womb by Knoll.

Guest bathroom
Cabinet in lacquered MDF and walnut with turquoise bathtub on design by Elena Cerizza realization Arredamenti Carugati (Lomazzo) and Vallmar (Meda), mirrors Randaccio by Gubi, vintage wall sconce, bathroom fixtures Bonola by Flaminia, taps Memory by Agape


SUPPLIERS OF DESIGN WORKS AND MATERIALS:
Parquet: Domenico Mori
Resin: Fratelli Gritti
Custom-made furniture: Arredamenti Carugati
Ceiling painting art piece: INCONTRI DI LUCE RADENTI by Elodie Seguin