CASA GVS
Milano, 2018

IT - In un accogliente edificio di fine anni 60 alle spalle di Corso Italia viene elaborata un'interessante reinterpretazione dell'abitare milanese. Il contesto urbano sembra sospeso tra la città storica e quella moderna: costellata di capolavori dell'abitare del XX secolo opera di maestri come Caccia Dominioni, Magistretti e Libera, si viene travolti da un'atmosfera di sobria eleganza Milanese.
Il progetto decide di mantenere di fatto il classico impianto a corridoio centrale per distribuire le varie stanze aprendosi finalmente sulla zona giorno e diventando allo stesso tempo uno spazio poroso e capiente. La scelta è stata quella di disegnare e marcare la transizione tra i diversi ambienti grazie alla pavimentazione in parquet con posa a spina di pesce incorniciata. Questo ha assicurato un continuo fluire del materiale in tutta la superficie dell'abitazione mantenendo però la raccolta specificità di ogni ambiente.
Allo stesso modo la decorazione realizzata con carta da parati sui soffitti arricchisce l'atmosfera di ogni stanza in modo peculiare e sempre differente pur rimanendo un elemento costante all'interno di tutti gli spazi. La tradizione creativa milanese, che ha nell'Architetto Gio Ponti forse sua massima sintesi, insegna da sempre la ricerca della coniugazione di arte e spazio. Il tentativo progettuale è quindi quello di richiamare, reinterpretando, forme e toni provenienti dalla produzione grafica, dal lavoro sulle ceramiche e dalle stampe Pontiane per dare forza e vitalità ai nuovi spazi abitativi contemporanei.

ENG - In an elegant building of the late 60's around Corso Italia we developed an interesting reinterpretation of the Milanese living space. The urban surroundings seem to be suspended between the historical and the modern atmosphere, in an overwhelming collection of sober Milanese elegance by the XX Century masters such as CacciaDominioni, Magistretti, Mangiarotti and Libera.
The project chooses to keep the traditional central layout distributing the various rooms and finally opening up on the bright living area. The spine corridor turns out to be a porous and capacious space.
The architect choice was to draw and mark the transition between the different environments thanks to the parquet flooring with framed herringbone laying. This ensures a continuous flow of materials throughout the surface of the house while maintaining the cozy specificity of each room.
Moreover, the changing ceiling decorations enrich the atmosphere in a rather peculiar and precious way. The Milanese creative tradition, which has in the Master Gio Ponti perhaps its main representative, has always researched on how to combine art and architectural space.
The design attempt is therefore to recall, reinterpreting shapes and tones coming from
Ponti's graphic production, work on ceramics and prints in order to give strength and vitality to the new contemporary living spaces.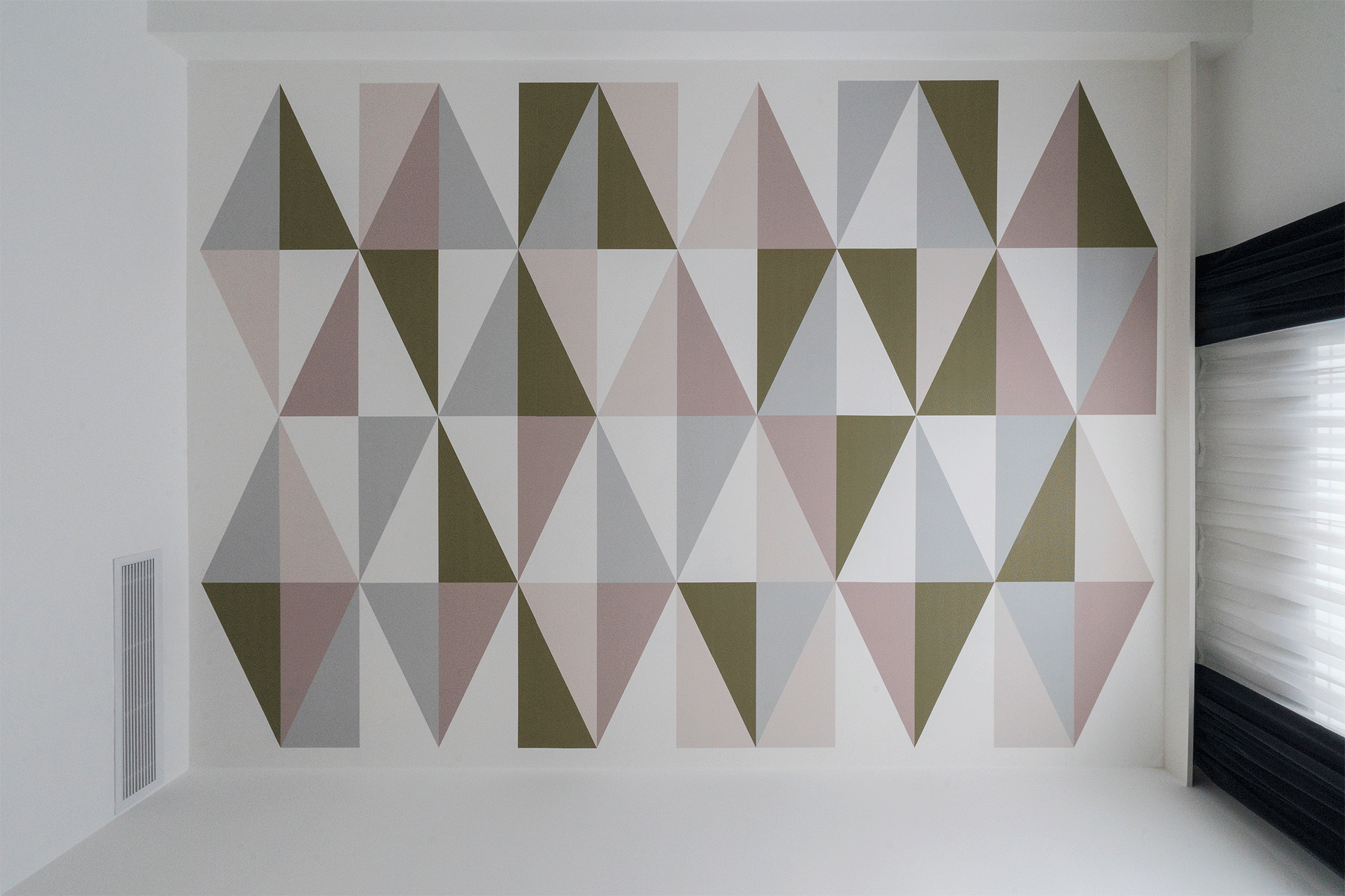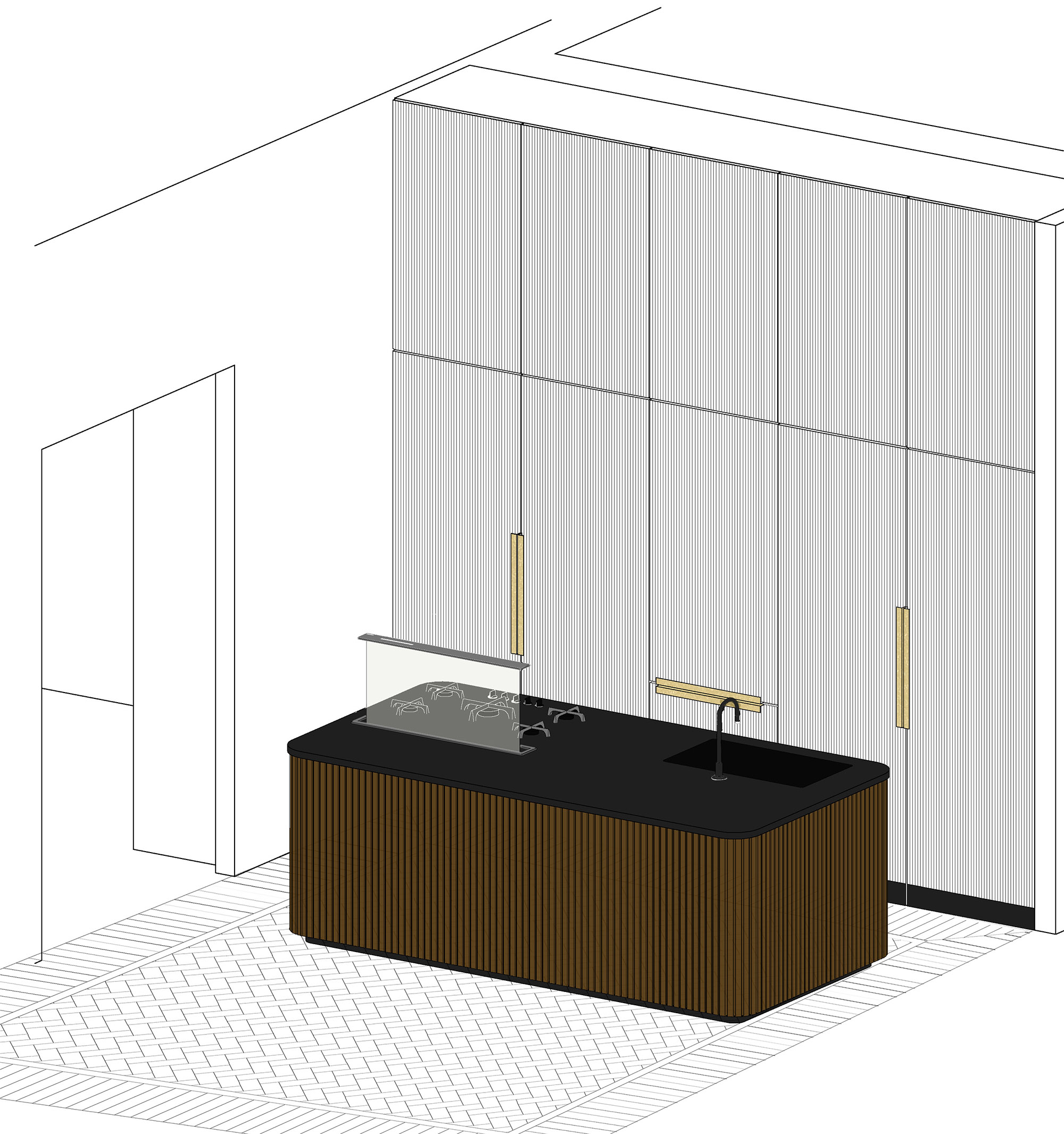 Author: Elena Cerizza
Team: Caterina Pilar Palumbo, Monica Cerfeda, Ginevra Venturini
Costruction: SDHome srl
Photographs: Caterina Pilar Palumbo


TECHNICAL DATA
Hallway
Consolle TS by Gubi, laquered MDF and brass furniture design by Elena Cerizza produced by Arredamenti Carugati (Lomazzo), applique Zero by Luceitalia

Living
Charles sofa by B&B Italia, Coffee Table TS by Gubi, Table by Cappellini, chandelier 2097 di Flos, Beetle chairs by Gubi, ceiling wallpaper inspired by Villa Plachart by Gio Ponti printed by Jannelli e Volpi (Milano), curtains fabric Waver e Harald by Kvadrat made by Textim (Seveso)

Kitchen
Counter with dyed wooden and brass profiles design by Elena Cerizza produced by Arredamenti Carugati (Lomazzo), Compedium lamp by Luceplan, ceiling wallpaper inspired by Villa Plachart by Gio Ponti printed by Jannelli e Volpi (Milano)

Guest bedroom
Laquered MDF furniture design by Elena Cerizza produced by Arredamenti Carugati (Lomazzo), Parentesi lamp by Flos, Sofa-bed upholsery fabric Relax e Coda by Kvadrat made by Textim (Seveso), ceiling wallpaper inspired by Villa Plachart by Gio Ponti printed by Jannelli e Volpi (Milano)

Kids bedroom
Laquered MDF furniture design by Elena Cerizza produced by Arredamenti Carugati (Lomazzo), Aim lamp by Flos, ceiling wallpaper inspired by Villa Plachart by Gio Ponti printed by Jannelli e Volpi (Milano)

Bathroom
Laquered MDF furniture design by Elena Cerizza produced by Arredamenti Carugati (Lomazzo), Vintage mirror , bathroom fixtures designed by Gio Ponti supplied by Mamoli, top-mounted washbasin Tedge by Globo, floor finishing Rombini by Mutina
SUPPLIERS OF DESIGN WORKS AND MATERIALS
Ceramics: Mutina
Custom-made furniture: Arredamenti Carugati
Wallpaper: Jannelli e Volpi